USS Constitution Commemorates 200th Anniversary of Dual Victory over Royal Navy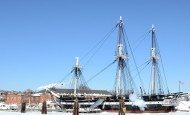 The crew of USS Constitution commemorated the bicentennial of Old Ironsides' final battle during the War of 1812, her unprecedented dual-victory over Royal Navy ships HMS Cyane and HMS Levant Feb. 20 in Charlestown Navy Yard.
Constitution Sailors fired the ship's saluting battery at noon to commemorate the start of the battle, and visitors to the ship received dramatic accounts of the battle from Constitution crew members throughout the day. At sunset, the saluting gun was fired again in commemoration of the conclusion of both the battle and the War of 1812.
The evening gun salute was followed by a ceremony and reception at the USS Constitution Museum. The reception opened with welcoming remarks from Cmdr. Sean D. Kearns, Constitution's 73rd commanding officer, and Anne Rand, president of the USS Constitution Museum, and then featured an account of the battle from a current crew member, Damage Controlman Fireman Terray Franklin, followed by remarks from the guest speaker, Professor James Holmes of the Naval War College in Newport, Rhode Island.
"The ceremony today was a great way to commemorate what was arguably Constitution's greatest victory under the command of perhaps her greatest captain," said Kearns. "It was also a fitting time to reflect on the entire war and the peace which has existed among the belligerents ever since. As Professor Holmes mentioned in his remarks, it is as important now as it was then for us to be able to look past old enmities and strive for peace and partnership with other nations."
Representatives from Boston's Canadian and Irish consulates were also on hand to give remarks and toast the 200 years of peace that has existed between the U.S., Canada and Great Britain since the conclusion of the war.
"The War of 1812 helped solidify the North American borders, and helped create a peace between …read more
Read more here:: Defense Talk (Naval)