Aircraft Compatibility Testing Begins Aboard USS Gerald R. Ford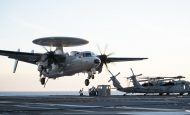 The aircraft carrier USS Gerald R. Ford (CVN 78) departed its homeport of Norfolk, Jan. 16 to begin Aircraft Compatibility Testing (ACT) off the East Coast as the first aircraft, an E-2D landed, on board.
ACT continues the at-sea testing of Electromagnetic Aircraft Launch System (EMALS) and Advanced Arresting Gear (AAG) – two Aircraft Launch and Recovery Equipment (ALRE) systems unique to Ford – previously conducted in 2018 by the F/A-18 E/F Super Hornet. During this upcoming phase of ACT, compatibility testing will include: T-45 Goshawks, F/A-18 E/F Super Hornets, and E/A-18G Growlers from Air Test and Evaluation Squadron 23 (VX-23); and E-2D Advanced Hawkeyes and C-2A Greyhounds, from Air Test and Evaluation Squadron 20 (VX-20). This will be the first time the T-45, E-2D, C-2A and E/A-18G aircraft will launch and recover from the Navy's newest aircraft carrier.
"Ford is now proving all of the test-work accomplished at Joint Base McGuire-Dix-Lakehurst, N.J. over the last year-and-a-half, that we can fly fleet aircraft as a ship with EMALS and AAG integrated," said Cmdr. Mehdi "Metro" Akacem, Ford's Air Boss. "This is very exciting, and it is the culmination of a year-and-a-half of training, anticipation, and teamwork."
Ford last flew aircraft in January 2018 and has 747 launches and arrestments to date. This round of testing will allow the crew to further test the improvements made during its post-shakedown availability (PSA) at Huntington Ingalls Industries-Newport News Shipbuilding while also allowing the crew to gain experience on these unique systems.
"This is one of the reasons why I love the Navy," said Aviation Boatswain's Mate Airman Xavier Pettway, from Jacksonville, Fla. "It's crazy to think about. Even when we were doing drills on the flight deck my heart was beating so fast, and now, we're doing it for real. It's unreal, but I'm ready …read more
Read more here:: Defense Talk (Naval)